Two Young Entrepreneurs from Ferguson Shine at NFTE's National Challenge
Steve Mariott
October 21, 2015
With fiery images of rioting and protests in Ferguson, Missouri, flooding the news this year, it can be easy to forget that our urban youth want not only an end to racism and unwarranted police harassment and violence, but also something young people crave everywhere: the opportunity to succeed and show their stuff!
It was a real thrill for me, therefore, to meet two young entrepreneurs from Ferguson who were finalists at NFTE's National Youth Entrepreneurship Challenge last Tuesday in New York City.
Jacob Tiemann and Destiny Davis from Ferguson hail from NFTE's St. Louis Metro program. They developed and presented their original business plans as part of their entrepreneurial studies at school using NFTE's award-winning, project-based curriculum. As winners of their regional business plan competition, Jacob and Destiny traveled to NYC last week to complete as finalists in the NFTE National Challenge.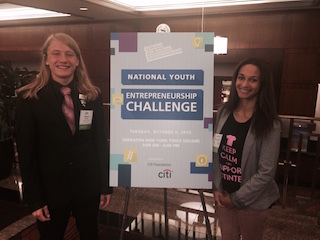 Jacob and Destiny


Jacob Tiemann created SneakerTrade in order to provide a safe marketplace for those looking to sell and/or resell their shoes. Jacob says, "I would like to use some of my profits to help the rebuilding process in Ferguson, and to donate to foundations trying to stop racism." Empowered with the skills he learned from the NFTE program, he is ready to make his goals a reality. "I am now aware of how smart I really am," Jacob adds, "and that entrepreneurship is something that can help make me very successful."

Destiny Davis has been fashioning personalized T-shirts out of her home since she was in sixth grade. Her business, DestinTees, designs affordable, high-quality, customized T-shirts (and other apparel) for a loyal local clientele. Destiny says the NFTE course has taught her to take risks and develop confidence. She now sees herself rising to meet each new challenge coming her way. Destiny is committed to giving back to her community, and has created a line of clothing dubbed "My Ferguson" which was sold to raise funds for the "I Love Ferguson" campaign.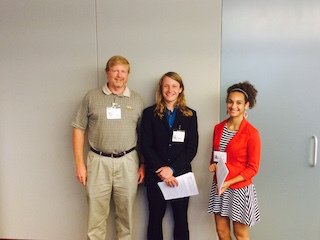 Destiny plans to attend college after high school and in the meantime, she says, "I am sure that I want to continue running my custom apparel business, and even start a business or two more along the way!"

Brandee McHale, president of Citi Foundation, which presented the event, noted: "These budding entrepreneurs are a testament to the inspiring work of NFTE, which has enabled these students to develop their entrepreneurial mindset and better prepare for success in today's economy."

In partnership with the Ferguson Florissant, Jennings, Ritenour, Normandy and St. Louis Public School Districts, NFTE St. Louis Metro trains teachers to engage students from underserved communities as entrepreneurial thinkers. Since opening in 2013, NFTE St. Louis Metro has provided over 700 students with the tools and entrepreneurial mindset necessary for them to succeed in high school, college and in the workplace. NFTE St. Louis Metro received their business plan coaching from top companies in St. Louis, such as MasterCard.

NFTE St. Louis Metro director Angela Lewis reports, "Five or our fourteen NFTE teachers are in the Ferguson Florissant School District teaching eleven NFTE classes this school year. We have begun to develop a serious footprint in the area. We are excited about the entrepreneurial ecosystem in St. Louis we are developing to develop the next pipeline of business leaders!"

Learning about entrepreneurship empowers young people living amidst strife, racism and violence because it teaches them that their situation is never hopeless. They own valuable assets: their time, their energy and their unique knowledge of their local markets. Through the entrepreneurship education that NFTE provides, they discover that they can use their time, energy and unique knowledge to create success for themselves through entrepreneurship. What life-changing information for a young person to have!
"We're exceptionally proud of all our students," NFTE CEO Shawn Osborne says, "And we're delighted that, through entrepreneurship, we can give young people the tools and mindset that will help them overcome adversity and address future personal, economic, community and global challenges."